Milo's Whole World Gourmet, LLC is a creator and producer of specialty foods based in Athens County, Ohio. Founded in 2003 and still run today by Jonathan Milo Leal and his team, the company is growing strong.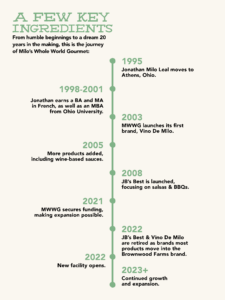 Milo's WWG procures ingredients from the finest sources in the Great Lakes region and the United States.
Milo's WWG crafts all of its gourmet products in small-batches, with clean and minimal ingredients, and with the quality, care, and ingenuity one would find in a true homemade product.
In addition to our co-pack and private label business, Milo's WWG crafts the Brownwood Farms line of farm-stand quality sauces and condiments, including Famous Kream® Mustard, BBQ sauces, fruit salsas, ketchups, pasta sauces, salad dressings, and fruit spreads.
By starting with a foundation of clean and natural ingredients to craft our homestyle recipes, we cultivate an array of savory and bountiful flavors you'll be amazed we fit into a jar!
Read more about the Milo in Milo's WWG
Click to hear Jonathan share about his Milo's WWG journey
on the June 4 On The Menu podcast!!



Check out Jonathan on the June 15th episode of the Specialty Foods Association Spill & Dish podcast